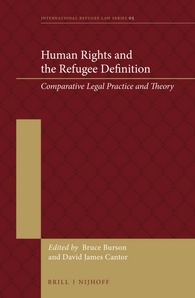 Human Rights and the Refugee Definition. Comperative Legal Practice and Theory
B.Burson, D.J.Cantor "Human Rights and the Refugee Definition. Comperative Legal Practice and Theory"
Authors of the book, Bruce Burson and David James Cantor are lawyers, scientists and researchers in the field of refugee law. They brought together contributions that add a detailed comparative perspective to the debate on whether, and how interpretation of the refugee definition should take account of human rights law in their book. They collected together new studies by leading scholars and practitioners. The authors explore in details how these legal dynamics play out in a range of national and international jurisdictions and in relation to particular thematic challenges in refugee law. The book illustrates those two systems, human rights and refugee law; helps to develop Human Rights Law protections in different modes.
Does human rights law help us to define who qualifies as a refugee? If so, then how? These deceptively simple questions sit at the heart of an intense contemporary debate. The book scrutinizes whether, or how, interpretation of the refugee definition in the Refugee Convention should take account of human rights law.
The book also includes bibliographical references and index.