One of the typical dishes for the Lublin region are paravies, or dumplings with cheese resembling a crushed ball. They are the most known and popular kind of dumplings in this region.
---
Do you know the most popular dish in Lublin region? Yes, it is cebulazh. It is delicious pizza made of onions. Do you know that there is even the museum of cebulazh in Lublin. There you will have the possibility to make it by your own hands. Here  you will find all necessary information. 
---
The meat typical of the Lublin cuisine is freshly fried, i.e. meat fried with spices and onions. Added to this are bean sausage or chicken broth.
---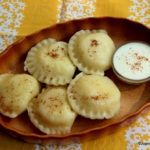 Pierogi po lubelsku 
These are the Lublin's dumplings with sweet white cottage cheese.
Best after heating them up in boiling water.
Served with natural yogurt and sugar.
You can buy them in the regional restaurants or in the shops called "garmażerka" when you can buy ready meals to take away and eat at home.
---
Pierogi z kaszą gryczaną i białym serem
These are the dumplings with buckwheat and sweet white cottage cheese.
These are another sweet dumplings.
Best fried and served with natural yoghurt.
You can buy them or in the shops called "garmażerka" when you can buy ready meals to take away and eat at home.
---
Cebularz
This is an onion cake.
This is a special salty cake with onion and poppy seed.
You can buy it in the local restaurants with regional food or in bakeries in Lublin, which is a better option.
Served with butter and salt with pepper.
---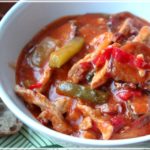 Forszmak lubelski 
This is local soup made of chicken, ham, vegetables and tomato broth.
It is a very nutritious meal because of big pieces of meat in the soup.
You can try it on the bars, local restaurants, canteens.
---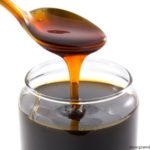 Miód
Honey is a really regional food in Lublin.
Most recommended honey in Lublin is buckwheat honey – miód gryczany.
You can buy it on local markets.
---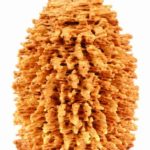 Sękacz podlaski
It's a confectionery product which appearance is a result of its specific way of preparation. His shape looking like a fir is the effect of being handmade hearth heated up. Thanks to such method, this product keeps freshness for 10 weeks.
Traditional Sękacz podlaski you can buy in Zaniewicz bakery  – Lublin ul. Fabryczna 2.
---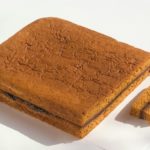 Lublin's gingerbread
It's such a perfect proposition for amateurs of sweetness, who are taking care about health, because Lublin's gingerbread doesn't make people fat. It's a two-part cake which has plum jam between cake parts. Gingerbread has only regional components like: multiflora honey, plums, flour and milk.
What's interesting, from the beginning it was served without the sauce.
---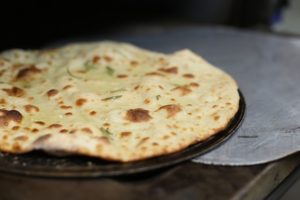 Polish Flatbread
The Polish cuisine has its own Flatbread. The history of this bread comes from ancient times of Slavians. The flat bread made of wheat, water and salt was baked on stone in the fire. The traditional bread should be roasted on metal plate lying on a bake.  However, people say that it is possible to bake this bread on a frying pan. It looks like really flat pita, but it is crispy. It can be eaten as normal bread because it used to be the only bread eaten in Poland years ago. In Polish shops podpłomyki can be found also as thin and crunchy waffles which are really sweet and delicious with fruit jam.